We bring your wisdom, knowledge, truth, and artistry to the world through print, ebook, audio, and video.
In a world gone mad with commercialism and consumerism, we care more about beauty, wisdom, and humanity than fame or fortune. The Gray Bear represents strength, wisdom, independence, truth, reliability, and authenticity.
Whether you're a poet or a spiritual guide, a photographer or a public speaker, a teacher or a grandma—if you've got something you want to say, we want to help you say it.
Publishing, editing, and coaching services
We can publish your book for you, help you self-publish, or anything in between. Pricing depends on the services you need and your expected timeline; we'll quote you an itemized price with a clear rationale for every cost.
Our number one goal is that you feel you got more than you paid for when everything is done. Our number two goal is to make sure we feel we were fairly compensated for our expertise and labor.
Book coaching and consulting
Whether you've got an outline, an idea, or just a dream of being published, we'll guide you through the stages of creating your book.
Help refine and perfect your ideas and approach to your subject
Help you get your ideas onto the page in the most effective way
Help you set up a timeline you can stick to, getting your book to publication quality
Walk you through the early stages of marketing to ensure success after publication
Editing services
Once your book is written, we can provide the right level of editing you need.
Developmental editing to identify and fix gaps, conflicts, and structural issues
Copy editing to make your prose sing
Proofreading so every line is free of errors
Design and layout
Once your copy is ready to go, we can design both the cover and the interior for print and electronic distribution.
Publishing and distribution
When it's time to publish, we'll procure ISBNs and work through print-on-demand suppliers IngramSpark and Amazon to get your book published and available for distribution worldwide. Or if you prefer, we can help you through the process yourself.
Set up the book files, metadata, and pricing in the publishing platforms
Order proof copies for your approval
Set up your book for preorder
Manage ongoing sales, reporting, and accounting for your book
Marketing and publicity
If you wait until your book is published to start your marketing, you've already waited too long, so we'll start talking about marketing well in advance of publication.
Clarify your goals, audiences, ideal market segments, and channels
Help you identify and pursue pre-release blurbs and reviews
Create an action plan for post-publication publicity including awards, reviews, advertising, social media, and press
Identify your additional ongoing needs beyond our expertise, and who may be able to help
Why assisted self-publishing?
In today's digital, on-demand world, self-publishing has become far more accessible. But just as with changing your car's brake pads, not everyone has the time, interest, or patience to do it.
That's where hybrid and assisted self-publishing companies like Gray Bear Publications come in. We live for this stuff.
If you're looking for fame or fortune from your writing, you're better off trying to break into traditional publishing. But even there, 98% of traditionally published books sold fewer than 5,000 copies in 2020.
So really, if you're looking for fame or fortune from your writing, you're better off starting rich and famous.
But if your publishing goal is anything other than fame and fortune, and you don't want to learn all the ins and outs of publishing, we hybrid and assisted self-publishing companies are here for you.
If you want to learn more, Writer Beware has a really fabulous and balanced website that details what to watch out for, how to identify a scam, and a lot more.
The economic model flows from our values
Our number one goal is to make sure you feel you get more value than you pay for. Our number two goal is to make sure we get fairly compensated for our expertise and labor. That's it. If we achieve both those things, we've succeeded.
Why print-on-demand?
So. Many. Reasons. Nothing gets printed until it's ordered. Less waste, less energy used, less up-front cost, no inventory management. It also makes revisions and updates, including special cover designs, quick and easy. And the two POD services we use—IngramSpark and Amazon—offer worldwide distribution through all relevant physical and online retail outlets. Even with all that, you can purchase in bulk so you have plenty of copies on hand for readings, events, giveaways, or whatever.
What about bookstores?
We love bookstores, especially independent shops. The reality is that very few books get stocked at all, and the retail channel is expensive and demanding, so unless you're part of that 2% of traditionally published books that sell more than 5,000 copies, it's unlikely you'll see your book in a store. That said, every bookshop will be able to order your book and feature it in their online store, and many will gladly carry your book on consignment if you ask.
How is this not vanity press?
If you've been around publishing as long as I have, the words "vanity press" make you throw up in your mouth a little. Vanity presses prey on the naïveté and hopes of writers who do not understand the publishing business. They have terrible reputations because they
Promise publication success but put little effort into distribution, marketing or sales
Charge outrageous fees for poor editorial quality
Dump large inventories of books on the author
Print literally any piece of garbage as long as you pay them
Own the rights to your book like a traditional publisher
We won't publish anything we're not proud to have our logo on. We won't promise you something you won't get. We won't overcharge. And we have decades of experience and expertise to make sure your product—our product—is the best it can be.
And we don't make you sign over your rights. We'll publish your book for you, but you can opt out any time and always have the right to repurpose your work.
Why assisted self-publishing and not actual self-publishing?
There's lots of room for both! Look for classes and workshops where we demystify self-publishing and teach you how to do it yourself. Part of our process, if you work with us, is to teach you along the way if you are interested in learning. We are all about empowerment. We're so confident in our expertise and quality, though, that you'll want to keep working with us!
About the founder
Peter Dudley is a certified professional coach and the author of several books including together, four young adult novels, and a chapter book. With over two decades in and around the publishing industry, he's also published numerous short stories, a handful of poems, and countless articles. Peter has also been quoted in such media outlets as Reader's Digest, US News, Money Magazine, PR Daily, and Ethical Corporation. His author rating (as of August 30, 2023) is 4.27 out of 5.0 stars on Goodreads. Peter's first paid publication credit was a short story that appeared in a UC Berkeley publication in 1988.
Peter started Gray Bear Publications under his professional coaching business, Gray Bear Coaching LLC, with a vision of helping people bring their art, personal stories, and expertise to the world. Since his first job as a tech writer in 1989, Peter brings to this role over 30 years in business from tech startups, Fortune 100 companies, and nonprofits in roles as diverse as communications, marketing, corporate responsibility, executive leadership, and fundraising.
He's the father of two grown children—one an Eagle Scout PhD student working in sustainable agriculture, and the other a transgender EMT who is also a TikTok influencer—and lives with his partner in the San Francisco East Bay.
He currently serves on the board of directors of the San Francisco Writers Conference, and on the board of directors of the San Francisco Bay Area chapter of the International Coaching Federation.
Even with all that, he sometimes thinks his crowning achievement was being named runner-up in The New Yorker's cartoon caption contest #788 (February 2, 2022). There's something special about being #2 on 2/2/22.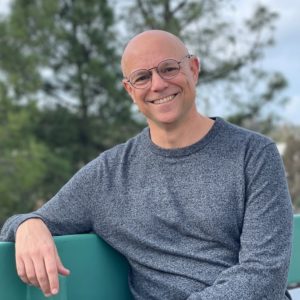 Gray Bear Publications (GBP) is an imprint of Gray Bear Coaching, LLC.